Risk Factors for Spraining an Ankle
Tuesday, 30 May 2023 00:00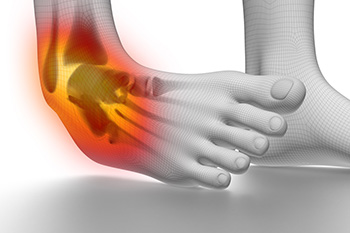 Ankle sprains are a common injury for people who are active in sports, but they also can happen to anyone. Certain behaviors put a person at more risk for this type of injury. A typical risk factor is embarking on strenuous physical activity when your body is not in shape. Another is pushing through muscle and ligament fatigue, toward the end of a run for instance, rather than resting for a little while before continuing. A third risk factor for ankle sprains is not warming up thoroughly before an activity. This causes tight muscles and ligaments to be more likely to tear. Carrying extra weight is another contributor to the likelihood of spraining an ankle, because of an increased load on the joint. Ill-fitting or inappropriate footwear is another factor. This applies in ordinary life, such as walking on slippery surfaces in high heels, not just during athletic endeavors. Anyone who has previously sprained an ankle is at more risk of incurring another such injury. Making sure the previously injured ankle has completely healed before resuming activity can help to prevent this. For more information on ankle sprains, it is suggested that you contact a podiatrist.
Ankle sprains are common but need immediate attention. If you need your feet checked, contact one of our podiatrists from Bazzi Podiatry. Our doctors can provide the care you need to keep you pain-free and on your feet.
How Does an Ankle Sprain Occur?
Ankle sprains take place when the ligaments in your ankle are torn or stretched beyond their limits. There are multiple ways that the ankle can become injured, including twisting or rolling over onto your ankle, putting undue stress on it, or causing trauma to the ankle itself.
What Are the Symptoms?
Mild to moderate bruising
Limited mobility
Swelling
Discoloration of the skin (depending on severity)
Preventing a Sprain
Wearing appropriate shoes for the occasion
Stretching before exercises and sports
Knowing your limits
Treatment of a Sprain
Treatment of a sprain depends on the severity.  Many times, people are told to rest and remain off their feet completely, while others are given an air cast. If the sprain is very severe, surgery may be required.
If you have suffered an ankle sprain previously, you may want to consider additional support such as a brace and regular exercises to strengthen the ankle.
If you have any questions please feel free to contact one of our offices located in Detroit, West Detroit, Northwest Detroit, Sterling Heights, Hamtramck and Dearborn Heights, MI . We offer the newest diagnostic and treatment technologies for all your foot and ankle needs.
Read more about Three Grades of Ankle Sprains
Our Hospital Affiliations