Suffering from foot or ankle pain?
Bazzi Podiatry is dedicated to getting to the root of your foot or ankle problem, with three locations in Detroit, one location in Sterling Heights, MI, one location in Hamtramck, MI, and one location in Dearborn Heights, MI.
Our seven podiatrists, Mohammed K. Bazzi, DPM, FACFAS, CWSP, Amer El-Khatib, DPM, Maria T. Doan, DPM, Ralph Zicherman, DPM, Mahdi Chamas, DPM, Dunia Ghazala, DPM, and Jerad Booth, DPM run a full-service podiatry practice specializing in limb salvage, wound care, and pathology. Dr. Bazzi is one of the only podiatrists in his area certified by the American Board of Wound Management. We offer services in vascular diagnostics and foot and ankle surgery, though we favor conservative treatment. Our office welcomes patients of all ages, from infants to adults. We pride ourselves on treating our patients with the respect and care that they deserve.
We accept most insurance plans and welcome new patients! Schedule an appointment today!
Jefferson Ave (Detroit): (313) 821-3338
Plymouth (Detroit): (313) 273-3780
Northwest Detroit: (313) 273-7091
Sterling Heights: (586) 244-9699
Hamtramck: (313) 872-4076
Dearborn Heights: (313) 563-0660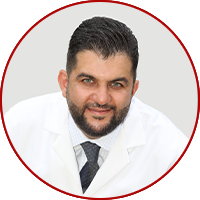 Mohammed K. Bazzi, DPM, FACFAS, CWSP