What to Expect With a Broken Toe
Tuesday, 08 November 2022 00:00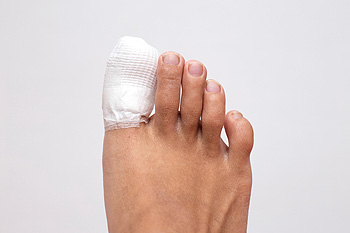 Broken toes are common. They can happen to anyone at any time, from those who participate in sports to those whose toes get hit by a heavy object. Serious toe injuries typically happen to the big toe. Other toe breaks can be handled by taping the afflicted toe to the toe next to it to immobilize it. Whether serious or not, breaking a toe can be quite painful and make it difficult to walk. When a toe breaks, there will often be swelling, stiffness, and bruising. A serious fracture can cause the toe to look deformed. It takes approximately six weeks for a broken toe to heal. If healing is not progressing it might be due to incorrect use of crutches, the bone may have atrophied from non-use, or an infection is present. To avoid broken toes in the future, wear proper fitting protective shoes, use care when participating in sports, and include foods rich in vitamins C and D in your diet to strengthen bones. If you have broken your toe, it is a good idea to consult with a podiatrist who can determine the severity of the break and offer treatment options.
Broken toes may cause a lot of pain and should be treated as soon as possible. If you have any concerns about your feet, contact one of our podiatrists from Bazzi Podiatry. Our doctors will treat your foot and ankle needs.
What Is a Broken Toe?
A broken toe occurs when one or more of the toe bones of the foot are broken after an injury. Injuries such as stubbing your toe or dropping a heavy object on it may cause a toe fracture.
Symptoms of a Broken Toe
Swelling
Pain (with/without wearing shoes)
Stiffness
Nail Injury
Although the injured toe should be monitored daily, it is especially important to have a podiatrist look at your toe if you have severe symptoms. Some of these symptoms include worsening or new pain that is not relieved with medication, sores, redness, or open wounds near the toe.
If you have any questions, please feel free to contact one of our offices located in Detroit, West Detroit, Northwest Detroit, Sterling Heights, Hamtramck and Dearborn Heights, MI . We offer the newest diagnostic and treatment technologies for all your foot care needs.
Read more about What to Know About a Broken Toe
Our Hospital Affiliations